Movies Filmed in Arizona
When you grow up in Arizona, it's hard sometimes not to feel overlooked as a state. With California right next door, it seems the world at large doesn't know what Arizona has to offer. Even one of the opening scenes in The Karate Kid includes Arizona's red rock country town of Sedona, but only when they are on their way to California. A lot of people who have never been to Arizona, or have only passed through Phoenix, don't know that there are pine trees and snow to the North or actual bodies of water throughout the state. There are also sprawling metropolises, big city lights, and Old West attractions to protect the wild legacy. So, let's take a look around this beautiful state and learn what it truly has to offer the film world.
Classic movies have been shot in Arizona — here's a quick list:
Angel and the Badman
Revenge of the Nerds
Can't Buy Me Love
Jerry Maguire
Psycho (Original)
Little Miss Sunshine
Tombstone
The Quick and the Dead
Three Amigos
— and more. Keep reading to learn where these iconic films were shot!
When it comes to movies and TV, naturally many Westerns have been filmed in as well as quite a few Sci-Fi classics. IMDB lists 6,494 titles filmed in Arizona. That sounds like a surprising amount but for a little perspective, there are 208,717 listed for California (who ranks #1) and 109,019 for New York. If you know everything this state has to offer, it's hard to understand why Arizona doesn't rank higher for movie and TV production. While many iconic movies were filmed in Arizona, locations here are diverse and plentiful for your commercial projects as well.
Prime Urban Locations
Phoenix Metro Area Video Production
The greater Phoenix area, which includes Scottsdale, Tempe, Glendale, and Mesa, all have unique offerings suitable for any film or video production. Beautiful university campuses (Revenge of the Nerds, Can't Buy Me Love), massive football stadiums, (Jerry Maguire) dazzling cityscapes (the original Psycho, Little Miss Sunshine) and charming, eclectic downtown areas have you covered if you need an urban setting.
Historic Arizona Video Production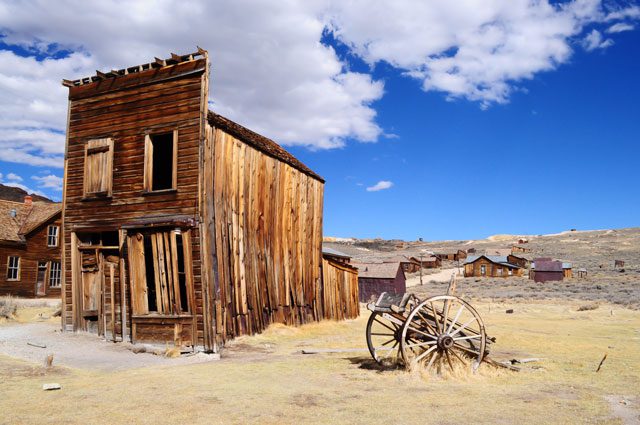 If your project would benefit from a historic venue, Arizona has dozens of towns preserved in time and are popular destinations for locals and tourists alike. Historic Jerome, an old mining town, dangles precariously on the scenic drive between Prescott and Sedona. Haunted hotels, mining history, wineries and one winding road that takes you through town offer a truly special location. Nearby Prescott offers historic Whiskey Row, wherein each building has been lovingly caretaken to conserve its old west appeal, across from the old Courthouse Square and its tree-lined streets.
Tucson Video Production
Dozens of Westerns have been filmed at Old Tucson Studios including Tombstone, The Quick and the Dead and Three Amigos, not to mention it's a popular destination for commercial video production and photo shoots. You won't find a more perfect picture of the old west anywhere else. Downtown Tucson is packed with history as well, such as the affectionately conserved Hotel Congress where John Dillinger himself was apprehended.
Arizona Architecture
While you're in the southern part of the state, visit Bisbee, a well-kept secret of Southern Arizona, another old mining town of surprisingly lush surroundings boasting architectural and historic heritage. Southern Arizona also is home to architectural artifacts such as the San Xavier Mission, built in the late 1700s, a Spanish Catholic church donning Moorish-inspired exterior and rich ornamentation.
Other architectural gems in Arizona include Frank Lloyd Wright's Taliesin West in Scottsdale, a stunning desert campus the unmatched architect built in 1937 for his students and as his winter home, and the magnificent Biltmore Hotel, also a Wright design. Want more architecture? Arizona also has the London bridge, built in 1831, brought over in the late1960s from yes, London, brick by brick to the proud new owner: the founder of Lake Havasu City, where it sits today.
The Great Outdoors
Arizona Desert Scenery
Majestic scenery abounds across the state of Arizona. Aside from the well-known but not to be dismissed Grand Canyon, many producers have taken advantage of unique and sometimes otherworldly vistas you can only find in Arizona. The barren planet of Tatooine in Star Wars: A New Hope and Return of the Jedi is brought to life in the vast Imperial Sand Dunes of Yuma. In Page, AZ, tour Antelope Canyon, the orange and red crevices of the canyon fill with light that plays against swirling walls of sandstone and shadow. In Phoenix proper, the Desert Botanical Gardens present 140 acres of native succulents and cacti and host a rotating display of sculpture and artwork amid the garden paths.
Northern Arizona Scenery
Arizona also offers beautiful bodies of water, surrounded by boulders at some, red sands at others, all offering resplendent panoramas year-round. Glen Canyon, which sprawls across both Arizona and Utah, hosted the filming of the original Planet of the Apes in the Arizona portion of course, and with water snaking through its sheer red walls, looks like Mars would if it had any water. Sedona, home of mystics and vortices, is also home to some of the most jaw-dropping red rock formations on the planet as well as roaring creeks and rich vegetation.
Aeronautical Scenery
For something a bit different, and super cool, the Pima Air and Space Museum in Tucson is the final resting place to over 300 retired aircraft from every generation of aviation past, spanning 80 acres of desert. You may remember the movie Can't Buy Me Love, primarily filmed in Arizona, includes a scene at this location, locally known as the Boneyard.
Video Destination AZ
Filming in Arizona can be easier and less expensive than in other states. Arizona has 300 days of sunshine each year, on average. As most films and video productions require dry skies, the climate is ideal. Permit fees cost nothing when issued for filming on state parklands, highways or roads. The Arizona Commerce Authority can help you find the correct permitting authority after you have registered your project or you can use their interactive map on their website to find out who owns the land you're interested in filming on.
For an idea of time frames, the below is posted on their site:
Permit Time Frames: (Subject to change)
AZ Dept. of Transportation: 10 Business Days
AZ Federal Lands & National Forests/ Parks/ Monuments/ Recreation Areas: 15-60 Business Days
AZ State Parks & Trails: 10 Business Days for Small Scale; 30 Business Days for Large Scale  
AZ Tribal Lands: 30 Business Days
City of Phoenix: 24 Business Days
City of Tucson: 24 Hours 
For a list of all Arizona film offices, visit https://www.azcommerce.com/film-media/film-offices/
For Phoenix video production permitting information, visit https://www.phoenix.gov/econdev/filming/phoenix-film-and-digital-media-permit
For additional location ideas visit the Arizona Commerce Authority's location pages here.
We hope you found this valuable.
Did you enjoy this post? Yes? Let us know!
Who is Point in Time Studios? We are a video production company located in Phoenix, Arizona. We specialize in Corporate Video, Student and Multifamily Housing, and Virtual Reality. Please learn more about Point in Time Studios and see more of our work.